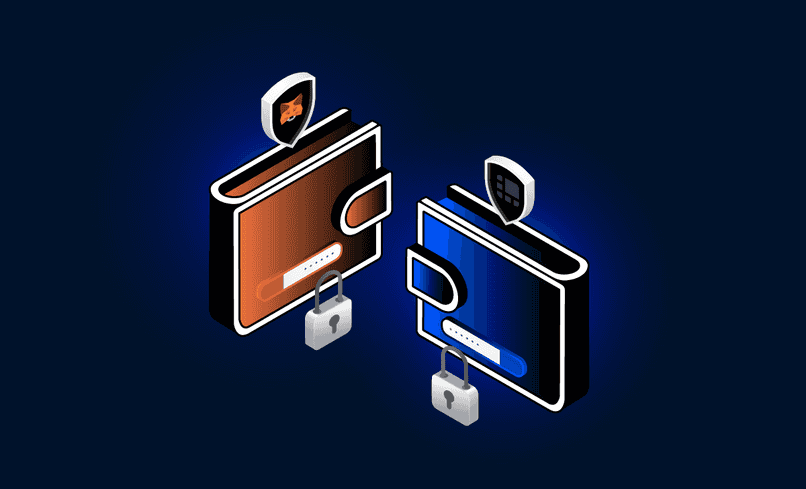 Cryptocurrencies like Bitcoin, Ethereum, and a number of altcoins have taken the world by storm in recent years, with more users than ever embracing digital finance and building investment portfolios. However, due to the digital nature of tokens, many users have difficulty holding their cryptocurrency securely.
Sadly, the cryptocurrency landscape has long been plagued with security flaws, with hackers identifying digital tokens as an excellent target for stealing the assets owned by their rightful owners.
Cryptocurrency exchanges use wallets in order to keep their crypto assets safe. In addition, there are plenty of specialist wallet apps for smartphone and desktop users, such as MetaMask, Trust Wallet, Bitcoin Wallet, etc.
In the same way as physical wallets, cryptocurrency wallets function as a place where you can store your assets. In addition, many crypto wallets can secure your currency conversions and broker electronic transactions.
Since the inception of cryptocurrency, security has been a significant concern, and hacks have become prevalent across exchanges. The most notable hack of 2014 occurred at Mt. Gox, which resulted in a $460 million loss. Since then, many exchanges have been exposed by hackers – illustrating the need for secure wallets.
Keeping this in mind, let's explore ways to keep your cryptocurrency wallets safe from cyber attacks:
Use VPNs when online
Based on the timeline of cryptocurrency hacks that have occurred over the past seven years, holding cryptocurrency online is a risky business. Nevertheless, it's also useful for users who intend to hold their assets for a relatively short time period. For cryptocurrency investors with limited experience, it can also be easier to use built-in wallets through major exchanges such as Coinbase and Binance.
In order to keep your assets safe even when stored online, you can use a virtual private network before making a transaction or logging into your wallet to add that extra layer of security.
Although many exchanges claim to have high-quality encryption in place, the industry's track record for fending off threats is mixed, to say the least. If you use one of the no-logs VPN services available online, you can trade in confidence, even in public wifi areas – safe in the knowledge that your assets will not be spied on.
Passwords are not to be dwelled on
In the United States, three-quarters of millennials use the same password on over ten devices. One of those devices can cause a lot of damage if it falls into the wrong hands.
It certainly makes sense to create separate passwords for your wallets in light of this. Although it's frustrating to come up with long passwords with multiple special characters, it's better than the risk of losing your wealth to compromised accounts. In addition, if you feel that something isn't quite right, or if you've been using the same password for many months, make sure that you generate a random password.
Additionally, where two-factor authentication (2FA) or multifactor authentication (MFA) is available, make sure you use it.
Phishing: Be vigilant
A phishing attack, which tricks you into entering your password or private key on a fake version of a real website, is the easiest way for hackers to access your wallet.
You should always remain vigilant when entering personal information on websites you don't completely trust. You should always double check any information you enter into a website you reached via a hyperlink you don't typically use, and always check the URL of the site you're visiting if it asks for login information.
The cryptocurrency ecosystem is maturing rapidly, and the industry's passage to mainstream adoption has made it more resilient in the face of attacks. In any case, it's crucial that you remain vigilant and always look for ways to keep your assets safe. With cold wallets and VPN encryption, it's now easier than ever to enjoy crypto investing without fear of losing your coins.
Consider a cold storage facility
There is no better way to protect your crypto assets than by using a 'cold' wallet. Cold wallets are hardware devices that aren't connected to the internet, so your portfolio can't be stolen online.
Users store their address and private key on a drive that isn't connected to the internet, and they usually come with software that allows them to view their portfolio without putting their private key at risk.
Paper wallets can also be created – which are likely the most secure method of storing cryptocurrencies. You can create a paper wallet by printing your public and private keys on a piece of paper using certain websites. If you do not possess that piece of paper, you cannot access your cryptocurrency.
Many crypto holders laminate their paper wallet keys and store them in a safety deposit box at their local bank.There are plenty of hardware-based wallet providers out there, so if you want the safest way to store crypto, it's worth doing your homework.